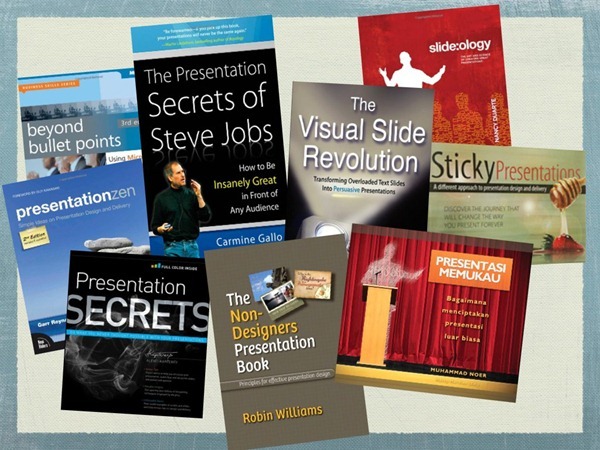 Books that will help them to be world-class presenters. Thank god they asked me this question! Had they asked me questions like "where can I find the best horror illustrators for hire?" or "Who is the perfect choice for an editor?", then I might not be able to answer most of it and might most likely require a lot of research from my end to answer it. However, in regards to presentation books, I guess it should be a cakewalk.
After reading so many books, I confidently recommend 9 of the best books in presentation for your reference. Learn the book and practice the lessons from these best books. Undoubtedly, your presentation skills will improve and you will be a remarkable presenter that will impress your audience.
1. The Non Designer's Presentation Book – Robin Williams
The main reason why I begin with Robin Williams' book is because of its simplicity. In this book, Robin explains the basic principles of a good design and how to apply it on creating good slides.
You don't have to be a designer to be able to design attractive and communicative slides.
In The Non – Designer's Presentation Book – Principles for Effective Presentation Design, Robin explain CRAP approach (Contrast, Repetition, Alignment and Proximity). This concept is very powerful. You can easily remember and implement it directly when creating your presentation slides.
If you are interested in learning more, I also suggest you to read "The Non Designer's Design Book – Design and Topographic Principles for the Visual Novice". This is Robin's most famous and the best book, which explains basic principle in design for those who are not designers like you and me. Additionally, you can learn the typography aspects such as choosing the right font, size and using colors.
Get The Non- Designer's Presentation Book at Amazon.Com
2. Slideology – Nancy Duarte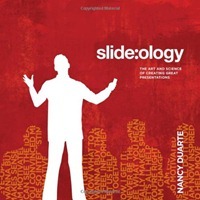 If you have watched The Inconvenient Truth, you must certainly agree that Al Gore has delivered a remarkable presentation. In this film, Al Gore was able to bring up an issue and make it very important.
The team who designed presentation for Al Gore was Nancy Duarte, the writer of Slideology –The Art and Science of Creating Great Presentation
This book summarizes almost the entire Nancy's experiences as a communication consultant at Duarte Design. Interestingly, Nancy has been able to incorporate the corporate presentation approach which is mostly boring with the aesthetical design that makes the message comprehensible and visually beautiful.
Nancy teaches us how to focus on ideas rather than on slides. This book also guides you how to create diagram and present data in an interesting way. You will learn how to present a complex business issue and make it visually simple and understandable.
Get The Slideology at Amazon.com
3. The Presentation Secrets of Steve Jobs – Carmine Gallo
Steve Jobs is one of my favorite presenters. He is the founder of Apple and also known as the great inventor in the 21st century for many phenomenal products such as iPod, iPhone and iPad that people use every day.
The Presentation Secrets of Steve Jobs – How to be Insanely Great in Front of Any Audience shows you the secrets behind Job's great presentation.
Carmine Gallo conscientiously analyses all presentations delivered by Steve Jobs during his entire career. He writes down the techniques used by this great presenter. The way how Jobs creates headline, how he divides story into three sections, incorporates the demonstration into presentation, and generates momentum to amaze the audience.
I strongly recommended this book, particularly if you hold a high position in the company and you wish to deliver an inspirational corporate presentation like Jobs.
Get The Presentation Secrets of Steve Jobs at Amazon.com
4. Presentation Zen – Garr Reynolds
I shall pay respect to Garr Reynolds who has influenced my way of thinking on presentation. He teaches us how to present slides from different angle, rather than the ordinary way. He also persistently goes against the traditional point of view about slides.
Garr who owns the Presentation Zen Blog, explains the philosophy and the culture principles practiced in Japan and Zen, particularly on design approach.
In his book of Presentation Zen- Simple Ideas on Presentation Design and Delivery, Garr points out the importance of simplicity, visual strength and harmony.
Frankly, I might say that this book is slightly difficult compare to the Robin Williams' one which is simple and to the point. But, if you want to grasp the aesthetical art and to learn how to make presentation slides like the world class designer, then I suggest reading this book.
You can learn more from Presentation Zen Design – Simple Design Principles and Techniques to Enhance Your Presentations which is also written by Garr Reynolds who resides in Japan.
Get Presentation Zen (2nd Edition) at Amazon.com
5. Presentation Secrets – Alexei Kapterev
Presentation Secrets – Do What You Never Thought Possible with Your Presentation by Alexei Kapterev is one of my favorite books. This book explains completely about presentation from many approaches, starts from the story, slides and the how to convey it.
Alexei is not a designer such as several writers mentioned previously. He even started to focus on presentation in the last few years. However, the book he has written describes how to create and to convey a good presentation.
In this book he tells his recent and previous experiences. Moreover, Alexei is known as the writer of the famous "Death by PowerPoint" which also talks about presentation. He is now working as a consultant and teaching visual communication in Graduate School of Business Administration, at Moscow State University.
Get the Presentation Secrets at Amazon.com
6. Beyond Bullet Points – Cliff Atkinson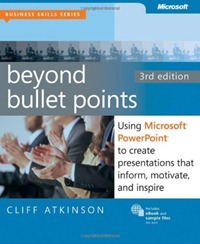 Could you make a presentation without using boring bullet points? Hence, this book will prove that you can do it.
One of the strength of this book is it explain presentation structure as unity. You can also separate your slides if you intend to convey your presentation completely or only as a summary.
In Beyond Bullet Points – Using Microsoft PowerPoint to Create Presentations That Inform, Motivate and Inspire, Cliff teaches us the simple way to observe flow of presentation from the audience point of view. He encourages you to create story based on the audience's perception. Then move the audience from current condition to the better one.
Cliff is also a speaker and a consultant who has been helping many prominent lawyers and Fortune 500 companies. He created a presentation design which had successfully convinced the Juries in a court and won the file suit that was worth of $ 253 million, in 2005.
Get the Beyond Bullet Points Book at Amazon.com
7. Sticky Presentation – Ang Tian Teck
This book explains how to create an effective presentation design, so that, it will give lasting impressionfor the audience. Ang Tian Tek is a Singaporean who becomes a consultant and trainer for many companies in this city country.
Sticky Presentation – A Different Approach to Presentation Design and Delivery will teach you the concept and the "sticky" approach. It shows you how to convey ideas that could stick and get into the mind of your audience.
This book is unique, because it does not follow the usual format. Reading this book feels like watching a set of slides and practical tips presented in interesting designs.
Get the Sticky Presentation at Kinokuniya Singapore
8. The Visual Slide Revolution – Dave Paradi
Those who use presentation to sell ideas, products or services to decision makers, I highly recommend Dave Paradi's book The Visual Slide Revolution – Transforming Overload Text Slides Into Persuasive Presentations. Dave Paradi is a professional and a speaker who has been invited frequently by Fortune 500 companies. This book would be useful for businessperson who deals everyday with data and numbers or for a manager who makes a presentation every week. This book tells you how to design powerful slides using a clear and simple technique. Most of the samples are coming from the corporate world.
Perhaps the slides used as examples are not as attractive as those in other books. But don't make a wrong conclusion; you will learn so many useful things from this book. For instance, you will learn how to show data changes visually, how to explain complex process in a simple way, and how to choose the right diagram to explain complicated data.
Get The Visual Slide Revolution at Amazon.com
9. Presentasi Memukau (Amazing Presentation) – Muhammad Noer
Not many good books about presentation available in Indonesian language. You could find books that show you how to make slide, but it focus merely on the technical aspect of using PowerPoint. There are other books that teach you technically how to speak in public, but they don't explain how to make use of visual communication in a presentation when you are in front of the audience.
To overcome this issue, I wrote a book which contains thorough explanation about presentation. This book had been prepared after having accomplished necessary matters. Such as doing research based on valuable resources relating to presentation subject, watching the video of remarkable presentations by great presenters and delivering presentations including the one at the TEDx Jakarta. Hence, I specially present this book for all the loyal visitors of Presentasi.net.
Presentasi Memukau (Amazing Presentation) – Bagaimana Menciptakan Presentasi Luar Biasa (How to Create a Remarkable Presentation) explains comprehensively the aspects that you should acknowledge in order to deliver a great presentation.
You can freely download this book, but other books will require payment. This intention is for good cause, which aims to educate anyone. Hopefully, this book will be a valuable inspiration for presenters in Indonesia to be able to deliver a world class presentation. We are in the process of translating this book into English so you can also enjoy it.
Those are the selected books about presentation that I recommend. Collect and read those best books in presentation. You will learn many things to be a capable presenter who could make a world class design and perform like presenters at TED.